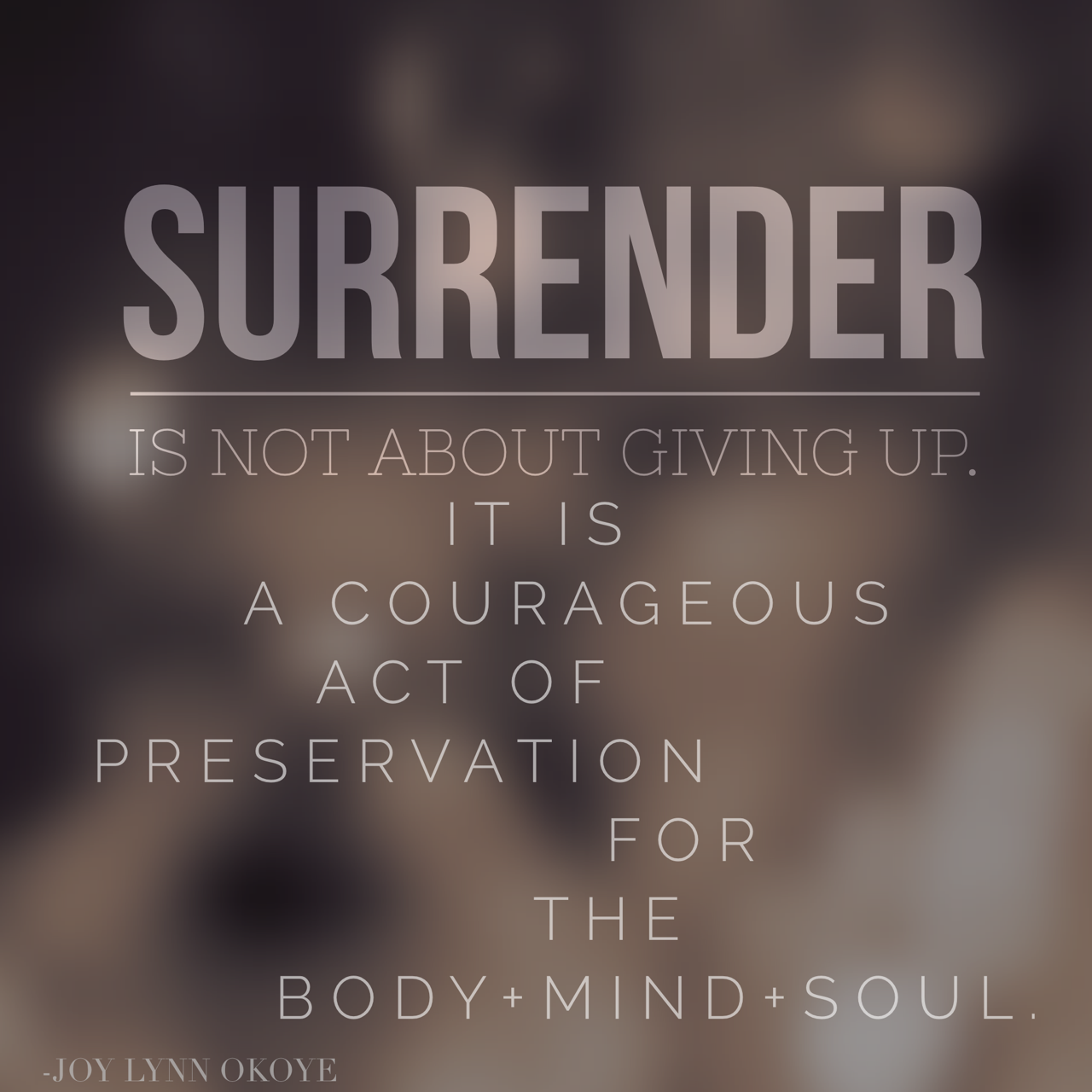 Sweet Surrender: Body+Mind+Soul
Posted on April 8, 2015
This spring I am committing myself to a practice of surrendering. Surrendering my thoughts and my longings. Surrendering to 'not having to know it all'. Surrendering to being open to possibilities that I can't even imagine. Surrendering to taking risks that I have been too afraid to take until Now. Surrendering to coming HOME to my body. JUST AS IT IS. I know (in my wise-mind) that ultimately I will make space for so much more in my life, by this act of sweet surrender (even though part of me thinks that I should hold on to my need to 'control stuff' and to resist anything that may make me vulnerable).
Recently I came across the amazing holistic health visionary, thought leader, and artist: Dr. Lissa Rankin. I have been inspired by her enthusiasm and ideas about wellness and healing. Rankin also has a thing about surrendering. Here is what she says about it:
" It's about making an offering to the Divine and being genuinely willing to accept whatever is in the highest good, even if it flies in the face of what you desire. Surrender is about unburdening yourself from the weight of your longing."
It was when Dr. Rankin's life fell apart in a million different ways that she learned about this practice of surrendering, and about this gift of human vulnerability. It was in that space that she developed a new paradigm of health with the central theme being: your intuition is the biggest healer you can tap into. With her clinical background and MD credentials aside, she claims that by listening to the whispers of your body and 'inner pilot light" (intuition) you will have much more success with finding a sure path towards personal healing and holistic health.
Dr. Rankin asks us, "Are the prevalent ideas about how to achieve a healthy life all wrong? Do we have it backwards?"
Her wellness model is very similar to my own. She claims that by focusing on the larger issues of ones life, and by healing and nourishing yourself from the inside out- the healthy body will follow. Dr. Rankin believes we are to write 'our own prescription' for a healthy life. She believes we can. You can hear more about this here: Lissa Rankin.
Her ideas are inspiring to me in so many ways. Because, contrary to so many other wellness professionals, what you eat is the last thing that is on my mind as a health coach. Yes, literally. Instead, I am most concerned with what is eating you (Yes, again, literally). Together we look at what you are feeding yourself from the inside out- from the thoughts that you have on perpetual repeat (As the Turkish saying goes, The Fish Rots from the head)- to the beliefs that may be hindering you from living life to your personal fullest.
Of course I love my smoothies and movement routine- but I know deep in my core (and I am not talking abs here) that if my mind is racing, if my heart is being smothered, and if my desires are being trampled on –my body will respond. It will scream and yell through sickness, headaches, fatigue and more until I listen and attend to its cries for a fulfilled life. Until I surrender to my longings.
This kind of surrender is not about giving up. It is a courageous act of preservation for the Body+Mind+Soul.
This month I invite you to join me in embracing the practice of sweet surrender. Who knows-it may be the very thing that helps you gain your next victory.
_______________________________________________________________________
April Affirmation:
I open myself to trusting that the universe has my back.
I know I am safe in letting go.
I know I am supported.
I know that I am strong and capable and can handle whatever comes my way.
I trust that my inner guide and my passions will lead me to wholeness: Body+Mind+Soul.