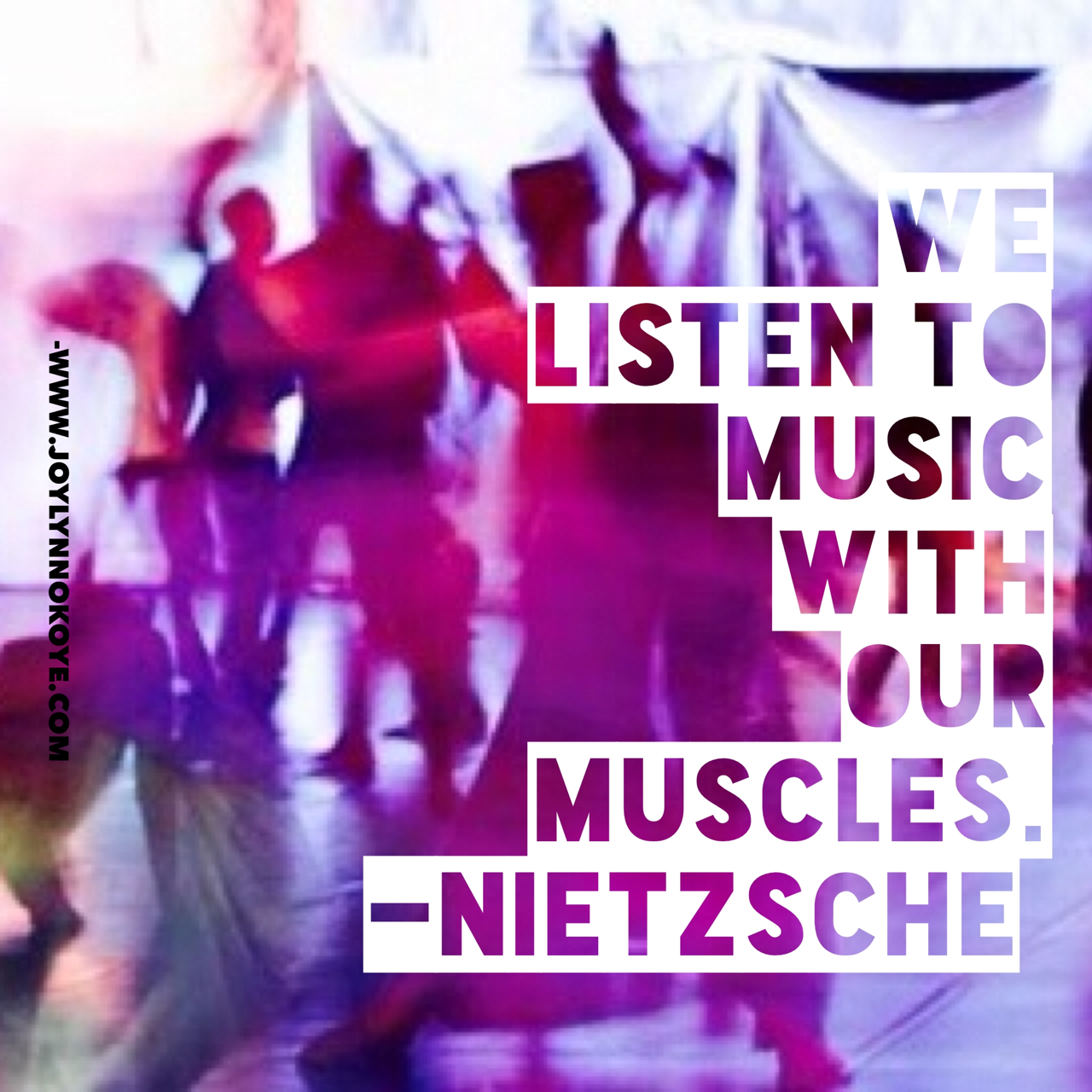 'We listen to music with our muscles.' ~ Nietzsche
In the beginning there was dance, in the middle there was dance, and after The End... THERE.
WILL.
BE. DANCE. That's my take anyway. If you haven't heard already- dance is the
new yoga
…its being prized for all of it's awesome brain making, brain sustaining, and brain nourishing qualities. See here:
Brain food
,
more brain food
,
and even more brain food
.
But the thing is—it brings up stuff for people. I was speaking with a friend recently and her face crumpled up when she told me, "I can't dance"— explaining that she is not sure she would be comfortable in any kind of class that had the word
dance
in it. I asked her why and she replied, "I'm just no good at it." When I explained that my classes and workshops are more of a 'meditation in movement' and that we kind of make up our own dances she relaxed a bit, but a new look of confusion swept over her brow.
The word dance can bring up triggering visuals for people; ranging from ballerinas perfecting their form, to disco clubs and twerking. Rarely do people have visions of joyful and non- judgmental free form movement in their minds eye when they think of a dancing class. But this is what JourneyDance™ and other 'conscious movement' classes are about. We aren't about perfecting anything. It's about BEING, and about APPRECIATING--your body, its movements, and the messages you receive from your dance –as is.
Most conscious style dance classes use the dance floor as a canvas, or even see it as an altar—it is similar to the affinity a yogi has for his/her yoga mat. It is a place to set our intentions, bring our 'stuff' to work through, and enter into a psycho-spiritual healing process (and/or work through your own body limitations and all the stuff that goes with that). We enter into a state of deep self-inquiry and meditation. Our soul is able to speak to us with our unique movements and our reactions to the moment and energy in the room. Sometimes the original intention changes and a new one is unveiled. Our authenticity is expressed and our creative self emerges and gets to come out and play for a while. Not all classes or all conscious movement classes go this 'deep'…some are lighter versions (like my new
BodyLove
class, which uses affirmations with movement), or will be thematic (like my
Living Art workshop
) and the facilitators' intentions guide the class/workshop. What is important to note is the shift of focus from being
performance based
to
meditative based
on the dance (movement) floor.
I wanted to share with you a wonderful documentary that is soon to come out which explores the conscious dance world. Ken Martini, the creator of the Conscious Dance Documentary Project (
www.consciousdance.org
) says this about his personal experience:
…I have derived many benefits from the dance such as being more grounded, having a better self-image, and being more perceptive of my environment and others who occupy it. The dance not only helped shape me into a better person in many respects, but it also gave me an incredible supportive community that is ever present in my life…It seemed to me that people could be more content and vital if they had a movement practice in their lives.
You may remember that doctor (Dr. Debroah Cohen) who had a little dance party in the operating room right before her surgery? She is featured in the documentary and talks about how she used conscious dance to deal and heal with cancer. See her in the first video on the project page:
www.consciousdance.org
This fall i hope you venture out and try something new for your Body+Mind+Soul. If you are looking for a new practice— something that incorporates more mindfulness, more joy, more peace, and more fun with movement, I would invite you to consider a conscious dance practice. I have listed a few different modalities that you can check out. Hope to see you soon on the floor…
whatever name you want to give it!
www.5rhythms.com
www.biodanza.us
www.continuummovement.com
www.jazzercise.com
www.journeydance.com
www.nianow.com
www.zumba.com
www.kinections.com
www.leveninstitute.com