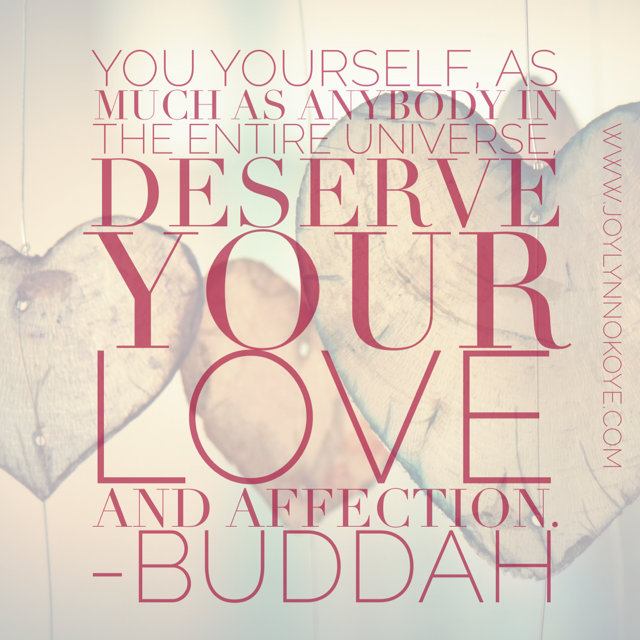 In all truth, my self-
loving revolution that has been underway for a few years is not always easy to maintain. Actually, I can get rather snarky with myself. I've noticed this pattern for a little while now, and I have been very conflicted about how to share it with others, or even if I should. As a self-promoting 'Self-Loving Junkie' I must confess I still stumble into fits of self-rejecting and self-loathing thoughts, behaviors and states of being. We've all heard about the benefits of praying/meditating, exercising, and/or mantra-ing our way back into a balanced, happy and self-loving place. Many times this will work—and my favorite practices of yoga, JourneyDance™ and reflective meditation are all a part of my self-healing mojo, but there is still this process I have to work through. There is still the darkness to meander through. You don't hear much about that—it's not filled with pretty flowery words and it's a prickly path for sure. But once I understood that it's a Self-Love Deepening Process (and it's a good thing instead of a bad thing) to go through, it helped(helps) me when I was (am) stuck in the darker places, and when the light seemed (seems) so far away.
I'm letting her out in all her glory. So here it is:

My Self-Love Deepening Process:
The OH Shit! Phase


Something triggers me. Something said directly to me or that I've heard (that in all fairness was probably not even about me, but Ohhhh
maybe it was??!!) or something I saw somewhere that hit a nerve-- a nerve connected to some unfinished business within. My neck hairs and inner confidence hairs feel the bristling.
The Yup, You Know You Suck Phase
Self-doubt digs in. The Inquisition from the Inner Critic takes over….Hands are up in the air. You got me. Head is bowed. I surrender to the negativity. Mirrors are avoided
unless I make a mean face at myself. Yup, it
gets ugly.
The Feeling Lightheaded and Brokenhearted Phase
All the doubt and negativity takes a hold of my body, it takes over my body. I get lethargic, I cry, I am filled with complaints and hostility towards myself. Sometimes I enter into a panicky state and feel this enormous sense of Why Even Bother Anymore. I may avoid all those I love for a little while. Or they may avoid me because I give off seriously bad vibes.
The Flashing Lights Phase
Then it happens. No time frame here, it just takes its own course. At some point, I see this quiet little flicker of light— almost like flickering Christmas lights or car headlights on windowpanes. I feel this deep remembrance of all the wonderful and terrible things that make me uniquely who I am: all the things that I have worked through, and all the challenges-- the memories of getting it right, getting it almost right, and missing the mark--but still getting up to begin again. I began to believe in my own inner beauty again. I realize I have something internal I need to work through, some place I need to go and be with. The familiar taste of hope on the tip of my tongue intrigues me…
The All-Better, actually Even Better Phase
I remember that the deep well of my heart- my inner love station- when it runs dry must be cared for. Like in a literal water well, "Well Deepening" must occur. In order to provide life-sustaining nourishment again, it must be deepened—new ground must be broken into— new cracks and openings must be created so the 'fresh nectar' can be released and discovered. When I accept this, my heart begins the process of mending itself. When I allow myself to feel what I need to feel- when I give myself permission to 'sit with it' instead of running away from it, or hiding or ignoring the current 'it'— I then began a beautiful
dance with 'it'—and find 'its' message for me. I let go and let "it" lead me to the area that needs some work. In due time, a fresh
nectar appears and is released from within my heart. I make my way back into the Light. I become full of love, full of life and the fears that once consumed me are replaced with a peaceful knowing that I am exactly where I need to be, who I need to be, and what I need to be in that moment.
The following quotes have been instrumental in my 'Well-Deepening" process. This is a collection of some of my all time favorite self-affirming and self-loving words. May you enjoy the deepening when it calls to you.
"Don't ask yourself what the world needs, ask yourself what makes you come alive. And then go and do that. Because what the world needs is people who have come alive."
– Howard Washington Thurman
"What lies behind us and what lies before us are tiny matters compared to what lies within us."
– Ralph Waldo Emerson
"You yourself, as much as anybody in the entire universe, deserve your love and affection"
– Buddha
"The most beautiful people we have known are those who have known defeat, known suffering, known struggle, known loss, and have found their way out of the depths. These persons have an appreciation, sensitivity and an understanding of life that fills them with compassions, gentleness, and a deep loving concern. Beautiful people do not just happen."
– Elizabeth Kubler-Ross
"It is never too late to be what you might have been."
– George Eliot
The most terrifying thing is to accept oneself completely.- C. G Jung